Have questions? Great!
Search through some of our most frequently asked questions >
What is a P.M.E?
---
P.M.E. stands for Paramedical Esthetician, a state board certified practitioner of the skin specializing in the treatment of acne, scarring, hyper-pigmentation, the effects of aging and the environment of the skin.
---
Why are your facials called "treatments"?
---
Corrective treatments are somewhat different than those provided at beauty salons or day spas. Our services are geared towards therapeutic treatments and acheiving results. In order to cut down costs and use time effectively, we do not provide facial massage, hand treatments or have you change into a gown, unless a back or chest treatment is necessary. A personalized treatment will be designed according to your specific condition. As with any therapy, there are no guarantees as to the outcome. Positive results depend on home care and regularity of treatments. To view our Menu of Services click here.
---
What is the cost of a treatment and necessary products?
---
Treatment prices start at $100. Topical medicationand skincare product prices range from $6 to $70 per item. Treatments & home routines for the medications applicable to your needs will be fully described and explained during your first appointment.
---
Do you accept insurance?
---
Unfortunately, most insurance companies do not cover therapy for acne or problem skin treated by a Paramedical Esthetician.
---
What types of payment do you accept?
---
We currently accept Visa, Mastercard, and American Express payments. Payments are due upon services rendered.
---
What if I need to cancel my appointment?
---
Let us know you need to cancel 24hrs+ before your appointment and there will be no penalty.
Let us know within 24 hours and the penalty is only $50.
No show? No call or email? You'll be charged 100% of your service scheduled.
We love ample notice so we can accommodate those on our waiting list. It's just good karma! And we want to help! So as a courtesy, we will:
Send you an email to confirm you made the appointment.
Send out an email to confirm your appointment two days prior to your appointment date.
Shoot you a text one day prior AND
We'll personally call you the day before your appointment date to remind you.
---
What makes Corrective Skincare different than an average spa?
---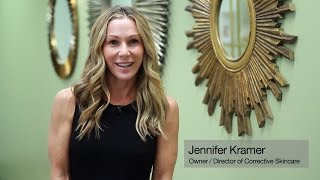 ---
What is your product return policy?
---
Once a sterile medication or product leaves the clinic, it cannot be returned for a refund. Clinic products cannot be re-sold.
---
What if I'm running late?
---
Clients arriving more than 15 minutes late for their Half Treatment or over 25 minutes late for their Full Treatment will be asked to reschedule and it will be considered a *No Show*. A $50.00 or Full Price penalty will be assessed. This policy will be strictly enforced as we take pride in providing the highest quality skincare possible.
---
Where are you located?
---
Corrective Skincare is located in Santa Monica, CA.
1828 Broadway, Unit A
Santa Monica, CA 90404

We also offer virtual consultations via Zoom or Facetime for anyone seeking a personalized skincare plan.

We can help anyone, anywhere.
---
Do you ship your products internationally?
---
At the moment, we are unable to ship outside of the US.
This is an option we hope to add in the future.
---
What types of skin issues do you specialize in?
---
We are best known for our laid-back, no nonsense, common sense approach to clearing skin. We offer clinical skincare treatments and Chemical Peels. We also dispense topical homecare products made by our chemist based on your individual needs. Our Estheticians are expertly trained in clearing acne, improving scarring, reducing discoloration, as well as the prevention of premature aging. Results-driven, practical skincare.
---
How can I schedule an appointment?
---
The easiest and quickest way to schedule an appointment is to go directly to our online system HERE.
We are also available to help if you reach out to us at info@correctiveskincarela.com or by calling Encino 818-981-6130 or Santa Monica 424-280-4591.
---
I don't live in Los Angeles, can I still be a Corrective Skincare client?
---
YES! We can help anyone, anywhere by using Zoom or Facetime!
80% of the work (and therefore, results!) comes from your care at home. The Virtual Consultation on it's own is $75/30 minutes.
We also have Skincare Bundle Programs including the Virtual Consultation as well!
During the consultation we'll cover lifestyle, skin goals, current home care routine, and all the contributing factors that come into play with acne, scarring, discoloration, or whatever your specific goals are! It will be akin to what we actually do in person. You will be free to purchase product (to be shipped directly to you) and implement the at home care that we recommend. We're all about integrating our clients into their skincare/explaining the science behind what we do and why...and excited to help make a difference.
---
Do you have a minimum age for Corrective Skincare clients?
---
We've seen clients as young as 9 and as mature as 85. If you have skin, we can help!
---
What Services and Skincare Products do you offer?
---
You can view our entire treatment menu here. All of our available skincare products can be viewed here.
---
---
Will my acne get worse before it gets better?
---
The quick answer is no, your acne should not get worse before it gets better. You might find, however, that as we detach superficial dead skin (making your skin healthier), any active lesions that were once below the surface of the skin will start to get closer to the top and will become more visible. This does not mean they are new breakouts, it means they are older ones coming out...which is great in the long run! The goal is clearing older acne lesions and preventing new ones.
---
What is acne?
---
The medical term for acne is 'Retention Hyperkeratosis'. Let's break that down and make it easier to understand. Retention means 'holding back'. Hyper means 'a lot'. Keratosis means 'dead skin cells'. So an oversimplified version of what this means is do you have a lot of dead superficial skin that's just stacking up and getting thicker. This is why acne is usually associated with oily skin. Dry skin is constantly shedding, maintaining a thinner layer. (not to say those with dry skin won't ever experience a breakout!) Generally, people who have oily skin, generally have thicker, more layers of dead skin cells that aren't falling off. The cells aren't turning over as quickly and pores become more impacted. Bacteria is more likely to form and that creates the likelihood of breakouts. Then you'll have to factor in genetics, stress, hormones...etc. There are so many reasons why one person breaks out and another doesn't. We'll break this all down for you during your consultation because one size does NOT fit all with acne and treating YOU will be different than the next person.
---
Can I use your products and/or services if I'm currently taking prescribed acne medication?
---
Yes and that's what's so great about Corrective Skincare! We are not pushy seller people. We work with you to find the best solution to your needs. If you speak with 20 different skincare professionals, you'll get 20 different suggestions. Our goal is to educate so YOU can choose the best approach. We will make suggestions but ultimately the decision is yours and we like it that way. The majority of the work to clear skin is done at home through self care. If you are currently taking prescribed acne medication, we'll want to know that and we can mix and match the best home care or treatment in-house based on what your current acne medications are and the variables that are affecting your skin.
---
What is your client success rate?
---
It's almost impossible for us to put an exact percentage to this, as the variables are endless: diligence with homecare, diet, exercise (stress reduction), make up, genetics, climate, etc) but for those that follow their 'homework' diligently *and communicate with us* have a better success rate than those who don't. The results are up to you. In our experience, the most successful therapies are those closely monitored, therefore communication is crucial. The clarity of your skin depends on your commitment to treatments and home care usage. Adjustments and modification may be needed for maximum results.
---
Do you treat acne rosacea?
---
While we can help treat acne and breakouts that may occur with Rosacea, we cannot treat the condition of Rosacea. Rosacea is a complex skin condition that may present itself in the form of redness, swelling and acne-like breakouts. Because of the complexity, we recommend seeking advice and or treatment from a Board-Certified Dermatologist for your Rosacea symptoms. If you are seeking a skincare routine with reduced preservatives and filler ingredients—we've had clients achieve great results using a customized home-care routine of our CSLA Skincare products. In-clinic and virtual consultations are available.
---
What are your Chemical Peel services for?
---
Chemical Peeling is a "skin cell loosening" technique. Skin is supposed to shed and renew itself every 28 days. However, due to genetics and age, this differs in some people and as time goes on the process drastically slows down. A chemical peel is simply an accelerated form of skin exfoliation resulting in newer, smoother skin.
Although the name may sound frightening, don't be scared — there are many types of chemical peels, varying in strength. There are varying degrees of depth of a peel, ranging from a very light superficial exfoliation (removing dead skin cells and requiring no downtime- like the one we do in a Full Treatment) to a medium or deeper peel (removing more layers for a deeper resurfacing and refinement of the skin with a moderate amount of downtime).
A chemical peel is used to help "dry out" active acne (loosening deep impactions making them easier to extract), to help reduce shallow wrinkling and scarring, to help lighten hyperpigmentation (dark spots on the skin), and to help improve the overall appearance and health of aging skin. Clearing depends on diligence to both home care and regularity of treatments. Clearing is also determined by how well instructions are followed.
---
What types of acne do you specialize in?
---
We specialize in ALL types of acne. There are 4 main grades of acne. Grades 1 + 2 are *non-inflammatory* and composed of comedones (aka blackheads) and smaller papules and pustules. Grades 3 + 4 are composed of larger, deeper and *inflammatory* pustules and papules. Grade 4 is cystic, deeper and more nodular, generally more painful and almost always scarring. We work with all grades- treating and preventing. We also work with the scarring that's sometimes left behind due to the inflammatory lesions.
---
Can I see any of your other client's before and after results?
---
Of course! Just click here.
---
How long will it take to acheive results?
---
Diligence to your specific home care routine and the frequency of clinic treatments enables results to be seen faster. Dedicated clients will generally begin to see results within the first week after their initial treatment and/or following a home care plan. 80% of the journey is home care. All of our before/after clients were diligent in following the instructions set forth by our Estheticians and by using specific products. An individual can have 100 treatments, but if they are not caring for their skin daily they will not see the type of improvements you see on our site. The best way to find out what your journey may look like is to book your first Full Treatment or Virtual Consultation with one of our Estheticians.
---
Are your treatments and products pregnancy and nursing safe?
---
The quick answer is yes!
We have treatments and most of our products are pregnancy and nursing safe. If you'd like to invest in acne prevention, you can either do Benzoyl Peroxide or Sulphur (we offer both) or a gentle and unbuffered (clean) acid...but that depends on what you and your OBGYN feel comfortable with.
Products we don't recommend during pregnancy or breastfeeding are Vitamin A derivatives or Hydroquinone, which is a bleach. Salicylic is also sometimes avoided.
If you'd like more specific tips or a personalized skincare plan, check out our Virtual Consultation service.
---
I have skin allergies/sensitive skin, can I still be a Corrective Skincare client?
---
YES! Our specialty is matching customized home care routines to YOUR skin based on your needs
We do a complete consultation during each treatment and have Virtual Consultations where we go over everything and provide information. Corrective Skincare spends the time explaining WHY.
Communication is the most important thing: if you understood WHY you are breaking out (or have scarring or discoloration or have sensitive skin) it's SO MUCH EASIER to correct, treat, and prevent.
---
Will your facial treatments make me break-out?
---
No​, our facial treatments (and skincare products) are designed with acne in mind. Unless we are doing our Anti-Aging treatment, our time is focused on creating clarity- we do not massage a lot during treatments as massaging stimulates oil production and can irritate or inflame active lesions. We use skincare products created by a local chemist in small batches to ensure efficacy. Without the usual preservatives, fillers, and other additives, they are cleaner than most products you can find on shelves and are less likely to break you out. It is possible, however, that we've taken off so much dead skin that you are seeing a breakout more than you wuld have previously. This is simply because it is closer to the surface and on it's way out- which is a good thing! Our work is successful when you bring your goals and communicate them to us. How your skin looks post-treatment depends on how your skin looks coming in. For instance, if you have inflammatory acne, it may be a little red after. If just a couple breakouts, not so red. ​We always tell people, either way, that their skin will look more rosy, shiny and clean! We can always go easier on you the first visit if that's what you want- just let us know. Also, how you care for your skin prior to coming in and what you do with it when you leave is the most important part of your clarity. Bottom line, our facial treatments ​are designed to clear you.
---
Can I get a chemical peel on my first visit?
---
We don't do any Chemical Peels during new client visits.
There are many different types of acid, different strengths of acid, different client lifestyles...and most importantly, everyone has different skin! All of these factors need to be taken into consideration before performing a Chemical Peel.
It is our policy that everyone receives a 'Full Treatment' on their first visit, which includes the consultation.
We have chosen to make this mandatory for one very specific reason = we don't know you and do not want to cause unnecessary damage to your skin.
In some cases, prep work during the first visit and/or at home is required for best results.
In other cases, the risk of rushing the process can be pretty severe and we don't want our clients going through that.
We know this may seem inconvenient, but it is ultimately for your safety.
---
Can your services help with my ice pick scars and skin texture?
---
Our treatments and peels can absolutely help with skin texture. To what degree is difficult to say though. There are so many variables to the Chemical Peel (different depths of different types of acid) and so many variables to each individual. (skin type, genetics, lifestyle, etc.) The more dead superficial skin you slough off, the less depth a scar will have, which will result in shallower scarring and smoother skin texture. We can work this from both angles for quickest results; home skincare and in-clinic services.
---
How often will I need to come in?
---
If you're working on acne, scarring or discoloration, you'll likely need to come in slightly more often in the beginning. You have to be more aggressive with these issues and if you come in more often in the beginning, the more extractions (or chemical peels) we do, the faster you clear, and the sooner you can reduce your in-clinic treatments.
We can work on your scarring (no problem!) but if you're still breaking out, it'll be an endless cycle since you'll get new scars. Our #1 goal is to clear you as fast as possible.
That being said, 80% of clearing your skin is home care. Your plan can be adjusted by your Esthetician during your in-clinic treatments or by scheduling a Virtual Consultation.
---
---